The story of a bulb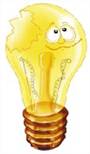 My story is long and interesting, it's the story of a dream and of a smart mind: the mind of my father, T. A. Edison. He was a tireless and stubborn inventor; he created me with patience and skill.
I'm the most exciting discovery of the 19th century! I'm the bulb! Can you think of your life without the light of a round bulb to illuminate your days?
Oh my ancestors!!! They gained the attention of everybody in the world, becoming the main characters of the energy system. Nowadays electricity is a fundamental element in our daily life. It's the most interesting challenge to optimize the available resources. That's why we use more and more economizing bulbs. What will my future be like, that one of a simple, poor, broken bulb? Will people remember and respect my noble and adventurous past?
La storia di una lampadina
La mia storia è lunga e molto avvincente, è la storia di un sogno e di un'intelligenzaacuta: quella di mio padre, Thomas Alva Edison. Egli è stato un inventore instancabile e testardo; io sono il frutto della sua pazienza e ingegnosità.
Io sono la scoperta più straordinaria del 19° secolo! Sono la lampadina! Potete pensare alla vostra vita senza la luce di un piccolo bulbo di vetro panciuto e a collo alto?
Oh, le mie progenitrici!!! Esse hanno conquistato rapidamente l'attenzione di tutto il mondo, divenendo le protagoniste del mondo dell'energia. Ai giorni nostri l'elettricità è divenuta una componente essenziale della vita quotidiana. La sfida della modernità è legata alla necessità di ottimizzare le risorse disponibili. Ecco perché sono state create lampadine a basso consumo o ad alta potenza. Che ne sarà di me, una povera, semplice lampadina, persino rotta? Ci sarà qualcuno che ricorderà e rispetterà il mio passato, nobile ed avventuroso?
L'histoire d'une ampoule
Mon histoire est longue et très prenante, c'est l'histoire d'un rêve et d'une intelligence aiguë: celle de mon père, T. A. Edison. C'était un inventeur infatigable et têtu; il m'a assemblée avec beaucoup de patience et ingéniosité.
Je suis la découverte la plus extraordinaire du dix-neuvième siècle! Moi je suis l'ampoule! Est-ce que vous pouvez penser votre vie sans la lumière d'une petite fiole à col long et à ventre renflé?
Oh, mes ancêtres!!! Ils ont vite conquis l'attention du monde entier, en devenant les protagonistes domaine de l'énergie. Aujourd'hui l'électricité est devenue une composante essentielle de notre vie. Désormais le défi de la modernité est lié à la nécessité d'optimiser les ressources: voilà pourquoi on a créé des ampoules à basse consommation ou des ampoules avec beaucoup de puissance. Que vais-je devenir? Moi: une simple, pauvre ampoule, cassée!!! Est-ce qu'on se souviendra et on respectera mon noble et aventureux passé?